Cat and Dog Vaccinations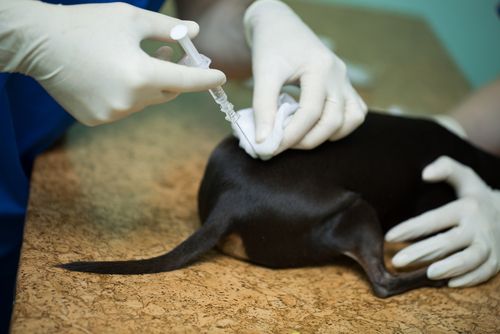 Vaccinations are important to keep your pets healthy. It is important to discuss your pet's routines with us so we can come up with the perfect set of vaccinations for your pet. Different pets need different vaccinations depending on their lifestyles. For example, indoor cats have fewer risks and need fewer vaccines while outdoor cats have access to more diseases and will need more vaccines to protect them. Similarly, a couch potato pooch isn't going to spend time in areas where some diseases exist and will not need the same vaccines as one that hunts and is exposed to more dangers.
When you get a new pet, bring them in immediately so we can talk about their individual needs and start a vaccination schedule that will work for you.
Puppies and kittens typically start their vaccinations when they are seven to eight weeks old. Every three to four weeks they will need boosters until they have all of their vaccinations.
After they have completed their initial booster series, we recommend yearly or bi-yearly exams to maintain their good health. At this time, some vaccinations may be boosters, while others may be protective for up to three years.
Regardless of your pet needing vaccines, it is important to bring him or her in once a year to identify and address any problems that may have changed since the last visit. It is much easier to treat problems that are just beginning than it is to deal with a serious or chronic condition. Additionally, we will be able to go over any questions you may have about your pet's care as they age. We will also discuss preventive medicine including heartworm, flea and tick medications and assess changes in lifestyle to alter the vaccines needed during that time in your pet's life.
Be sure to mention any questions or concerns you have about your pet's vaccinations to your veterinarian. They see daily cases of pets in your neighborhood and will know and understand the risks. They may also offer different vaccinations depending on where and how you live.
Your questions or concerns about vaccines are important to us, don't hesitate to contact us today at 317-830-0033.