Our Team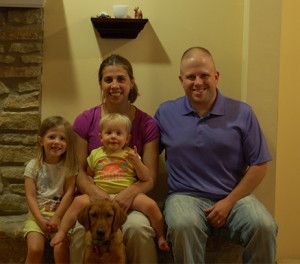 Dr. Angela Darden
Dr. Darden, originally from Michigan, graduated from Michigan State University College of Veterinary Medicine in 2011. Working as a small animal veterinarian, she moved to Indianapolis in 2013, where she has been the primary veterinarian at Binford Pet Wellness Clinic. Dr. Darden and her husband, Matt, participate in civil war re-enacting along with their two daughters, Alyssa and Sierra. She is an active member of the American Veterinary Medical Association, Indiana Veterinary Medical Association, and the Central Indiana Veterinary Medical Association. Her professional interests include ultrasonography, soft tissue surgery, and cardiology. Dr. Darden has 3 cats named Guinness, Amber Bock, and Yeung Ling, as well as a Golden Retriever named Finley.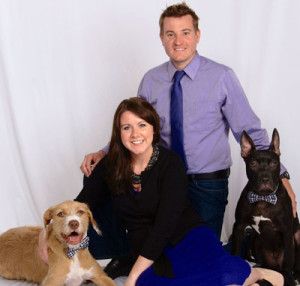 Dr. Rachael Campbell
Dr. Campbell was born and raised in Avon, Indiana and graduated from Purdue in 2005 with a Food Science degree. She continued her education in West Lafayette, graduating from Purdue University's School of Veterinary Medicine in 2009.
Her interests include preventative care, nutrition, and ophthalmology. She believes deeply in the importance of client education and communication in keeping your pets happy and healthy! Outside of work, she mostly spends time with her friends, her husband, Josh, her twin girls Aurora and Skylar, as well as her two dogs, Winston and Walter. Winston is an avid ball-player and Walter is most adorable when wearing sunglasses. She would love to get to know you and your pets better!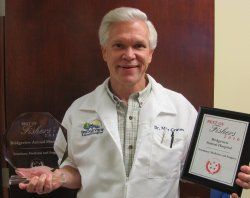 Dr. Mike Graves
In 1982, Dr. Michael Graves graduated from the Purdue University College of Veterinary Medicine. He has been active in small animal medicine for over 25 years, managing and consulting with another 54 hospitals nationwide, as well as having owned and operated over 12 small animal practices in his veterinary medical career. Dr. Graves is a member of the American Veterinary Medical Association, the Indiana Veterinary Medical Association, the Central Indiana Veterinary Medical Association, and a member of the American Animal Hospital Association. Dr. Graves founded Bridgeview Animal Hospital in August of 2005. Dr. Graves lives in Fishers with his wife Barbara, a registered veterinary technician, as well as their Australian Shepherds, Gabriel & Gibson. They also have 2 sons, Benjamin and Joshua.
Dr. Kerry Peterson
Dr. Peterson grew up in Vincennes, Indiana where she always had an interest in animals. She grew up next to an equine veterinary hospital and mentored with the veterinarian of that practice for years, hoping one day she could be just like him. She grew up riding Arabian horses and playing with her many dogs and cats. She decided at a young age that she wanted to be a veterinarian with a desire to work on horses.
After finishing her undergraduate studies at the University of South Carolina, Dr. Peterson completed her DVM at the Purdue College of Veterinary Medicine in 2006. Following graduation, she practiced at both Indiana racetracks, working on Thoroughbred, Quarter Horse, and Standardbred racehorses. In 2008, she became the Director of Animal Health Programs for the Indiana State Board of Animal Health. After nearly 5 years participating in regulatory medicine, she decided it was time to get back to private practice. Since 2012, she has been practicing small animal medicine with a strong interest in internal medicine, dentistry, and preventative care. Dr. Peterson enjoys spending time with her boyfriend Derek and their Labrador Retrievers, Vivian, Agnes, and Max. She also enjoys riding her horse Biggie, painting, exercising, reading and spending time outdoors.
Dr. Jim Dechand
Dr. Dechand graduated from Kansas State University in 1994. He has practiced in the Indianapolis area since graduation. He and his wife Teresa have 2 daughters, Mackenzie and Jacqueline and a cat Jemma. Dr. Dechand is kept busy with the youth group he helps lead and working with the Westfield High School Marching Band. He has special interests in small animal surgery and exotic pets.
Dr. Amy Jamieson
Dr. Jamieson grew up in South Bend. She had a love for animals at a young age which sparked her career into veterinary medicine. Pursuing her interests, she went to Michigan State University where she graduated with a Bachelors in Lyman Briggs Zoology in 2013. After graduation, she returned to her home state and graduated from Purdue University's College of Veterinary Medicine in 2017.

​​​​​​​Her professional interests include soft tissue surgery, preventative medicine, and exotic animals. Outside of the clinic, Dr. Jamieson enjoys spending time with friends and exploring the great outdoors with her Labrador, Camilla.